ClearView 3 - Clear-Bottom Double Kayak
Product image 1
Product image 2
Product image 3
Product image 4
Product image 5
Product image 6
Product image 7
Product image 8
Product image 9
Product image 10
Product image 11
Product image 12
Product image 13
Product image 14
Product image 15
Product image 16
Product image 17
Product image 18
Product image 19
Product image 20
Product image 21
Product image 22
Product image 23
Product image 24
Product image 25
Product image 26
Product image 27
Product image 28
Product image 29
Product image 30
Product image 31
Product image 32
Product image 33
Product image 34
Product image 35
Product image 36
Product image 37
Product image 38
Product image 39
Product image 40
The ClearView 3 double sit-on-top kayak is the latest in the transparent kayak range from Bay Sports, incorporating a see-through bottom into a well designed body. If you're interested to see not just what's around you, but also the spectacular sea life beneath you, then the ClearView 3 from Bay Sports is perfect. 

Watch it in action!
KEY FEATURES
Supporting up to 200kg in weight, the very stable ClearView 3 can seat two adults whilst also providing plenty of storage.
A watertight compartment at the front is ideal for keeping your phone, wallet and keys secure (use of proper dry bag recommended).
Generous storage area at the rear can hold your dry-bag, esky and even a fishing anchor.
Four in-built fishing rod holders + Trac rails are perfect for dropping a line and trawling, or even useful to put an umbrella in to shade you from the sun!
Perfect for exploring beautiful coral reefs, boat owners, hotel resorts and kayak hire businesses wanting to offer a unique experience to their customers, or those who just want to explore fascinating sea life in a whole new way, the ClearView 3 is a truly a must have kayak. 
BUILD AND Construction
The build quality is the best in class, with no traces of air bubbles inside the UV stabilised plastic walls, meaning your kayak is superior in durability and won't crack like brittle plastic kayaks prone to air bubbles, due to poor quality control. The large viewing windows are crystal clear, allowing you to experience the colourful marine life below in pure clarity.
Every single ClearView 3 kayak is tested to ensure optimal 3.5mm thickness, drop tested to ensure perfect plastic bond, balance tested for optimal stability, and water tested to ensure perfect seals. So rest assured your kayak will last for years to come. 
What's Included
2 x Deluxe Kayak Comfort Seats with Corrosion Resistant Brass Clips 
2 x 2-piece Paddles with Transparent Blades
1 Watertight Hatch Cover (20cm) with inner Bag
1 Front, 1 Rear + 2 Side handles
2 x Flush Insert Fishing Rod Holders (or for an umbrella to provide shade)
2 x Starport Mounts + 2 x Trac Rails for extra kayaking accessories like Swivel Rod Holders, GoPro and Railblaza mounts
2 x Drainage plugs
Groove (with brass inserts installed) to fit trolling motor mounting bar
1 x Replaceable scratch plate to protect hull damage from dragging. 
Recommended Accessories
5 Year Product Warranty
Bay Sports are a trusted kayak brand with years of research and development, assurance of quality is of absolute importance. We are so confident in the build quality that all our kayaks come with a full 5 year warranty & 5 year UV resistance rating. 


30 Day Money Back Policy
There are few kayaks on the market that can match the quality of our kayaks. Therefore at Bay Kayaks we paddle what we preach; We offer a 30 day money back guarantee on all our kayaks so long as its returned in 'as new' condition.
RESORT REVIEWS
Specifications
L: 4.01mtrs W: 0.74mtrs H: 0.34mtrs
Weight: 39kgs
Maximum weight capacity: 200kg
Delivery Pricing & Information
Capped Price Delivery Service
Our extensive network of specialist couriers means we can deliver kayaks anywhere in Australia! Under our Capped Price Delivery Service you can relax knowing your delivery price is capped, so no matter where you live, you won't pay anymore than these low prices we have negotiated:
NSW, ACT, QLD, VIC

 

- Metropolitan within 75 kms (2-3 business days) - $69

NSW, ACT, QLD, VIC

 

- Outside of Metropolitan (3-5 business days) -

 

$175
SA & CENTRAL QLD

 

- Hervey Bay & Above (3-5 business days) - $199
WA Perth Metro (2-3 business days) - $175
WA Mandurah, Bunbury, Esperance, Kalgoorlie, Newman, Carnarvon Areas (7-10 business days) - $269

TAS, NT, WA excluding Exmouth (6-10 business days) - $299
Commercial Address / Local Depot Pick Up
For a faster delivery, please put a business/commercial address or alternatively you can collect from your nearest transport depot. Simply put the business/commercial address in the Shipping Address field at checkout or write Local Depot in the Notes to Seller section at checkout. You can find your local depot location here. (All transit times are an estimates only and not guaranteed).

Residential Address
Yes we can absolutely deliver to any residential address with our private kayak couriers. The delivery time depends on their run schedule, but usually within 7-10 business days of placing your order. If you don't need your order delivered urgently and would prefer to have it delivered to your residential premise, simply put your address in the Shipping Address field at checkout.
Peace of Mind
Your new kayak comes professionally packaged, well protected for transport to your doorstep. We only use reputable couriers, who are reliable and usually fast to deliver. We will email you tracking details to trace your delivery, which is fully insured for damage/loss during transit.
User Guide
Click here to download the Bay Sports Kayak User Guide
Reviews
Customer Reviews
A fantastic addition to the family
We purchased this double kayak to use with our kids in our local lake. It is amazing, easy to direct and paddle with the kids in the front. As a first time kayak purchaser it would be nice to have some instructions for seat installation, use of wheels and correct roof lifting techniques and suggestions!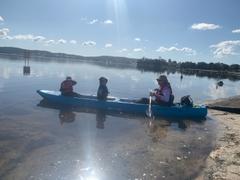 Pleased with the quality of the products design, finish and inclusions
I am impressed by the service I received from Bay Sports in buying the clear bottomed canoe. I was given good advice and timely responses to my queries, and the delivery was very professionally and personably handled. Having handled it all by internet I am very pleased with the quality of the products design, finish and inclusions. The paddles are good and the seats are good. My neighbours watched the delivery, helped me unpack and are totally envious! Top marks for product and service.
The kayak was well packaged for transit - arrived safe and sound
The extended wait was a little disappointing due to the kayak being out of stock but the guys kept in touch through the whole process. The courier was efficient and very helpful.
Very stable, well made, functional
Very stable, well made, functional kayak that my children aged 12 can also handle on their own. The clear bottom is slightly risen above the kayak base so it doesn't scratch against the sand. We've used it everyday since Xmas. Highly recommended. Would advice to buy the cone wheels that go with it as it can get a bit heavy to simply carry, but the wheels make transporting a lot easier.
:)
Haven't taken it out yet! But super keen to give our new tandem kayak a test run