Expedition 2 - 5.15m Single Sit In Touring Kayak
Product image 1
Product image 2
Product image 3
Product image 4
Product image 5
Product image 6
Product image 7
Product image 8
Product image 9
Product image 10
Product image 11
Product image 12
Product image 13
Product image 14
Product image 15
Product image 16
Product image 17
Product image 18
Product image 19
Product image 20
Product image 21
Product image 22
Product image 23
Product image 24
Product image 25
Product image 26
Product image 27
Product image 28
Product image 29
Product image 30
Product image 31
Product image 32
Product image 33
Product image 34
Product image 35
Product image 36
Product image 37
Product image 38
Product image 39
Product image 40
Product image 41
Product image 42
Product image 43
Product image 44
Product image 45
Product image 46
Product image 47
Product image 48
Product image 49
Product image 50
Product image 51
Product image 52
Product image 53
Product image 54
Product image 55
Product image 56
Product image 57
Product image 58
Product image 59
Product image 60
Product image 61
Product image 62
Product image 63
Regular price
AUD1,299.00
BRAND NEW 2021 MODEL.
YOUR MOST TRUSTED EXPEDITION PARTNER
Only $1299 including 2-piece paddle (Save $389!)
Watch a high definition walkthrough of all features of the Expedition 2 kayak from Bay Sports.

Key Features  
The Expedition 2 sit-in is the fastest and ultimate touring kayak of the Bay Sports family of sea kayaks. 
It was built for multi-day adventures, speed and capable of long distance paddling.
Compared to it's younger sibling the Expedition 1, it adds an extra 13 cm of length + an extra watertight storage compartment conveniently located directly in front of the cockpit, making this sea kayak the ultimate expedition tourer for weekend getaways and exploring. 
Design & Construction
Designed by renowned Swedish kayak designer Björn Thomasson, the Expedition 2 is the longer, faster brother to the Expedition 1, made for adventures great and far.
An extra 13cm of length and 4cm of width gives the Expedition 2 it's position as a true expedition kayak.
It is made with our signature 3-Layer foam core, sandwiched between high-grade UV16 stabilised HDPE, make this kayak lighter and stronger than regular polyethylene construction alone.
A V-shaped hull with hard chine, and little rocker, easily cuts through water whilst deep grooved hull lines provide for excellent tracking.
The streamlined shape of this kayak is the basis for its speed and steadiness, and with our premium foot-controlled rudder system, makes for easy manoeuvrability even with cross winds or stronger ocean currents. 
Build Quality
The build quality is the best in class, with no traces of air bubbles inside the UV stabilised plastic walls, meaning your kayak is superior in durability and won't crack like brittle plastic kayaks prone to air bubbles, due to poor quality control.
Every single Expedition kayak is tested to ensure 3.5mm thickness, drop tested to ensure perfect plastic bond, balance tested for optimal stability, and water tested to ensure perfect seals. So rest assured your kayak will last for years to come. 
What's Included
1 x Touring Paddle (2-piece)
Premium SmartTrack Rudder System with Footrest Steering Controls
Moulded-In Knee Braces
Bow & stern trapezoidal storage hatches with sealed bulkheads & Kajak Sport rubber hatch covers.
1 x Watertight storage compartments with twist lock cover & nylon liner bag
Built-in soft touring seat with comfort padding & backrest
Bow & Stern Carrying Handles
Bungee deck rigging & reflective perimeter lines
316 Stainless Steel hardware throughout
4 x criss-cross bungee cord sections for extra storage (dry bags etc)
Kayak Model Comparison Guide
Compare the features and specifications of all of Bay Sports range of Sit-In kayaks on one easy to read page.
Recommended Accessories
5 Year Warranty
Bay Sports are a trusted kayak brand with years of research and development, so assurance of quality is of absolute importance. We are so confident in the build quality that all our kayaks come with a full 5 year warranty & 5 year UV resistance rating. 


30 Day Money Back Policy
There are few kayaks on the market that can match the quality of our kayaks. Therefore at Bay Sports we paddle what we preach; We offer a 30 day money back guarantee on all our kayaks so long as its returned in 'as new' condition.

Specifications
Length: 5.15m 
Width: 0.59m 
Height: 0.30m
Weight: 28kgs  
Maximum weight capacity: 155kg
Cockpit size: 87cm (L) x 44cm (W)
Oval Hatch Cover: 47cm long x 29cm wide x 3cm high (UV stabilised rubber)
Circular Hatch Cover: 25cm long x 29cm wide x 3cm high (UV stabilised rubber)
Colours available: See above.
Total Volume: 350L
Front hatch volume: 64L
Rear hatch volume: 100L
Length from back of seat to furthest forward footrest position: 136cm.  
Delivery Pricing & Information
Capped Price Delivery Service
Our extensive network of specialist couriers means we can deliver kayaks anywhere in Australia! Under our Capped Price Delivery Service you can relax knowing your delivery price is capped, so no matter where you live, you won't pay anymore than these low prices we have negotiated:
NSW, ACT, QLD, VIC

 

- Metropolitan within 75 kms (2-3 business days) - $69
NSW, ACT, QLD, VIC

 

- Outside of Metropolitan (3-5 business days) -

 

$175
SA & CENTRAL QLD

 

- Hervey Bay & Above (3-5 business days) - $199
WA Perth Metro

 

(2-3 business days)

 

-

 

$175
WA Mandurah, Bunbury, Esperance, Kalgoorlie, Newman, Carnarvon Areas (7-10 business days) - $269
TAS, NT, WA

 

excluding Exmouth (6-10 business days) -

 

$299

Residential Address
Yes we can absolutely deliver to any residential address with our private kayak couriers. The delivery time depends on their run schedule, but usually within 7-10 business days of placing your order. 
Peace of Mind
Your new kayak comes professionally packaged, well protected for transport to your doorstep. We only use reputable couriers, who are reliable and usually fast to deliver. We will email you tracking details to trace your delivery, which is fully insured for damage/loss during transit.
User Guide
Click here to download the Bay Sports Kayak User Guide
Reviews
Customer Reviews
A nice all rounder kayak, could be made slimmer
Having used it for a few months now my main feedback is minor. I think the kayak could be trimmed an inch or so (55cm width) for greater consistent speed and reduced weight as per the two other Expedition boats you have. Also a care guide/manual would of been handy as a beginner - the underside front hull (bow) was gorged initially not knowing how easy these things are to chip/scratch on sandy bays.
I have recently purchased the Expedition 2 Sea Kayak and was really impressed. I chose the 2 to do some camping etc and the room for storage didn't disappoint. I am really happy with the storage in this boat.
Would happily recommend Bay Sports
The Expedition 2 has been completely as expected, easy to paddle and adjust where needed. Overall a great experience paddling around particularly during the current Covid 19 situation.
Dealing with the Bay Sports team has been has been a pleasing experience. They followed up to ensure the delivery went well and timely replied with all additional info requested. Totally would recommend the product and team.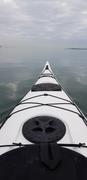 Very happy with my new Expedition 2 Kayak
Excellent service and advice. Arrived next day. Excellent quality.