Angler Pro XL - 4.3m Fishing Kayak with Live Bait Well
Product image 1
Product image 2
Product image 3
Product image 4
Product image 5
Product image 6
Product image 7
Product image 8
Product image 9
Product image 10
Product image 11
Product image 12
Product image 13
Product image 14
Product image 15
Product image 16
Product image 17
Product image 18
Product image 19
Product image 20
Product image 21
Product image 22
Product image 23
Product image 24
Product image 25
Product image 26
Product image 27
Product image 28
Product image 29
Product image 30
Product image 31
Product image 32
Product image 33
Product image 34
Product image 35
Product image 36
Product image 37
Product image 38
Product image 39
Product image 40
Product image 41
Product image 42
Product image 43
Product image 44
Product image 45
Product image 46
Product image 47
Product image 48
Product image 49
Product image 50
Product image 51
Product image 52
Product image 53
Product image 54
Product image 55
Product image 56
Product image 57
Product image 58
Product image 59
Product image 60
Product image 61
Product image 62
Product image 63
Product image 64
Product image 65
Product image 66
Product image 67
Product image 68
Product image 69
Product image 70
Product image 71
Product image 72
Product image 73
Product image 74
Product image 75
Product image 76
Product image 77
Product image 78
Product image 79
Product image 80
Product image 81
Product image 82
Product image 83
Product image 84
Brand new 2021 model


A fully decked out fishing kayak that paddles with oomph!
At 4.3 metres in length, and the bigger brother of the Angler Pro 4m it is one seriously capable kayak able to be taken offshore and in waters where there is chop/swell/boat wash. It was designed with increased rocker (the curvature from bow to stern), so it can punch through any water with ease.
Whilst designed as a fishing kayak, it's sleek shape means this is one quick kayak to paddle, able to to reach speeds up to 14 km/h, for when you need to cover some distance with ease. This also makes it an excellent fitness kayak. 
Upgrade to the Stadium Seat, and you've got one seriously comfortable kayak made for hours on the water in your luxurious padded and breathable mesh seat.
Key Features
The Angler Pro XL sit-on-top kayak is a 4.3m stable & fast fishing kayak, with all the features of it's younger brother (the Angler Pro 4.0), but in addition you get:
Multi-functional reversible hatch - mount up to 3 additional swivel rod holders.
Built-In hull transducer mount in the hull (with cover and screw inserts).
2 x extra moulded inserts for a sun-sail/sunshade cover

Plus 8 copper inserts to allow you to mount several more fishing kayak accessories such as fishing rod holders.
Extra aluminium track rails to accessorise your new kayak to the max
Design & Construction
It combines a low profile kayak with deep-grooved hull lines to create a fast and efficient fishing kayak ready to take on any waters.
With the all-day fisherman in mind, this fishing yak was crafted at a generous 78cm of width, giving it excellent stability when you need it most (when you've caught the big one!)
A durable, replaceable wear strip is affixed to the bottom tail of the boat, for extra protection, scratch resistance & longevity.
Large multi-function storage well for your live bait or fresh catch.
Built-In Fish Finder Transducer

 

mould in

 

hull, so you can fit a range of Lowrance, RailBlaza and Garmin transducers.
What's Included
1 x Premium Lightweight Paddle
1 x Kayak Backrest (note kayak is shown with Deluxe Kayak Seat)
1 x SmartTrack Foot-Controlled Rudder System
6 x Trolling Rod holders (2 with rubber covers)
4 x Aluminium track rails for mounting fishing rod holders, fish finder screens, GPS etc
4 x circular base mounts with screw inserts for installing flat pendants, safety lights etc
1 x 360° Swivel mounted rod holder
1 x Hinged reversible centre console (with 17 screw inserts for installing your range of fish finder, swivel rod holders and much more)
4 x Carry handles
2 x Paddle leash holders
1 x Large rbow storage hatch made from EPDM rubber.
316 Stainless steel hardware throughout
Deck rigging with Reflective Material (glows when distant light shines on it)
Recommended Accessories
5 Year Warranty 
Bay Sports are a trusted kayak brand with years of research and development, so assurance of quality is of absolute importance. We are so confident in the build quality that all our kayaks come with a full 5 year warranty & 5 year UV resistance rating. 


30 Day Money Back Policy 
There are few kayaks on the market that can match the quality of our kayaks. Therefore at Bay Sports we paddle what we preach; We offer a 30 day money back guarantee on all our kayaks so long as its returned in 'as new' condition.
Specifications
Length: 4.3m 
Width: 0.76m 
Height: 0.28m
Weight: 34kgs  
Maximum weight capacity: 180kgs
Colours available: See above.
Delivery Pricing & Information
Capped Price Delivery Service
Our extensive network of specialist couriers means we can deliver kayaks anywhere in Australia! Under our Capped Price Delivery Service you can relax knowing your delivery price is capped, so no matter where you live, you won't pay anymore than these low prices we have negotiated:
NSW, ACT, QLD, VIC

 

- Metropolitan within 75 kms (2-3 business days) - $69

NSW, ACT, QLD, VIC

 

- Outside of Metropolitan (3-5 business days) -

 

$175
SA & CENTRAL QLD

 

- Hervey Bay & Above (3-5 business days) - $199
WA Perth Metro

 

(2-3 business days)

 

-

 

$175
WA Mandurah, Bunbury, Esperance, Kalgoorlie, Newman, Carnarvon Areas (7-10 business days) - $269

TAS, NT, WA

 

excluding Exmouth (6-10 business days) -

 

$299
Residential Address
Yes we can absolutely deliver to any residential address with our private kayak couriers. The delivery time depends on their run schedule, but usually within 7-10 business days of placing your order.
Peace of Mind
Your new kayak comes professionally packaged, well protected for transport to your doorstep. We will email you tracking details to trace your delivery, which is fully insured for damage/loss during transit.
User Guide
Click here to download the Bay Sports Kayak User Guide
Reviews
Customer Reviews
10/04/2020
callan m.
Australia
Best aussie fishing kayak!
hesitated at first getting such a big heavy beast... but you know what it feels good out on the water, especially in windy choppy conditions. mass and stability are in this kayaks favour. its not that hard to get her moving with the supplied paddle and once you are up to speed the momentum of the hull pushes through a head wind with relaitive ease. erganomics for fishing are also fantastic! at no stage did i feel confined when flicking lures or trolling. the team also provided promt feedback during delivery. and that means so much to people in remote areas - thanks bay sports!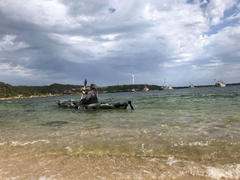 BCF eat your heart out
Why would you buy a kayak from BCF that is not even close to this quality or having no where near the length or accessories that this monster does. Well done guys you have been a pleasure to deal with thanks. The delivery guy you use is great to excellent communication.
Fantastic kayak and great value
PLenty of storage for all my gear (tackle boxes, esky, bait well). Very sturdy build quality - high quality finishings that make me think it will last for many years. Quick to pick up pace, I can use it as my exercise kayak as well as my fishing kayak. Very happy, as described online.
Experience was great
The kayak is good quality. But it's not ideal for choppy conditions nor swell. Great fast kayak though.
Bay Sports Angler 4.3 Fishing Kayak
My second Kayak from Bay Sports. Hamish and the crew are fantastic to deal with. Actually respond to you when you text or call. The 4.3 Fishing is just the job for me. As a "late 60's paddler" the length, beam and resultant stability are perfect for me. Its heavy, so reckon you need the dolly wheels, but I launch off my boat. Nice to paddle, and with little effort, because of length, and surprisingly, or maybe because of weight, it clips along. Once going, the foot steering and fine bow entry make maintaining a nice course and progress "easy". The yak is well set up for fishing, but I don't do much fishing from it, My use is fitness training and exploring. The seating position, even without the elevated "fishing chair" that you can buy, is perfect for a uninterrupted stroke, without hitting the sides of the kayak during catch and recovery. I am about 180cm (5'10"). This one is good for me. I don't spend 50% of my time in the water. In fact, I haven't been for an "involuntary/unplanned" swim off this 4.3 yet! But its easy to get back on, without drawing blood from sharp fittings. For the price, I reckon its a pretty good production kayak. I am a genuine owner. Not connected in any way with the dealer or supplier, except giving them money to buy the kayaks. Hamish asked me for a review.