Aquanauta - 3.3m Single Sit In Kayak
Product image 1
Product image 2
Product image 3
Product image 4
Product image 5
Product image 6
Product image 7
Product image 8
Product image 9
Product image 10
Product image 11
Product image 12
Product image 13
Product image 14
Product image 15
Product image 16
Product image 17
Product image 18
Product image 19
Product image 20
Product image 21
Product image 22
Product image 23
Product image 24
Product image 25
Product image 26
Product image 27
Product image 28
Product image 29
Product image 30
Product image 31
Product image 32
Product image 33
Product image 34
Product image 35
Product image 36
Product image 37
Product image 38
Product image 39
Product image 40
Product image 41
Product image 42
Product image 43
Product image 44
Product image 45
Product image 46
Product image 47
Product image 48
Product image 49
Product image 50
Product image 51
Product image 52
Product image 53
Product image 54
Product image 55
Product image 56
Product image 57
Product image 58
Product image 59
Product image 60
Product image 61
Product image 62
Product image 63
Product image 64
Product image 65
Product image 66
Product image 67
Product image 68
Product image 69
Product image 70
Product image 71
Product image 72
Product image 73
BRAND NEW 2021 LIGHTWEIGHT TOURING MODEL!

Discover a stable, lightweight kayak that is impressively fast.
Watch the high definition walkthrough video showing all the features and on water test of the Aquanauta kayak.
Key Features
The Aquanauta is the shortest touring kayak of the Bay Sports family of Sit In kayaks. Customer feedback told us people wanted a speedy, flat water kayak that accelerated fast, easy to handle and was stable, but without being enormous and lengthy, typically associated with Sit In type kayaks.
Easily capable of 10km+ adventures, our 3.3m Aquanauta can reach speeds up to 12km/h and will be sure to impress you.
Extraordinary acceleration for such a compact, short natured kayak. 
Light compact touring kayak for those who desire speed on the water, but prefer a compact, lighter weight kayak body.
Perfect for those with limited storage space at home / in the garage.
Design & Construction
It's lightweight and compact design makes it effortless for one person to lift up onto their car roof, easy to carry to and from the waters edge.
Foot-Controlled rudder system to assist with tracking in a straight line, with pull cord to pull up and let down the rudder in shallow waters.
Made from high-grade UV stabilised HDPE material for the Australian conditions.
A V-shaped hull with hard chine, and little rocker, easily cuts through water whilst paired with the rudder system provide for excellent tracking.
Build Quality
The build quality is the best in class, with no traces of air bubbles inside the UV stabilised plastic walls, meaning your kayak is superior in durability and won't crack like brittle plastic kayaks prone to air bubbles, due to poor quality control.
Tested to ensure 3.5mm thickness, drop tested to ensure perfect plastic bond, balance tested for optimal stability, and water tested to ensure perfect seals. So rest assured your kayak will last for years to come. 
What's Included 
1 x Lightweight 2-piece paddle
1 x Foot-Controlled Rudder System
2 x Bow & Stern carrying handles 
1 x Rear Elliptical hatch storage
1 x Front Round hatch storage
1 x In-Built Touring Seat
Black bungee cord for attaching dry bags and gear
Mould with copper inserts to install compass or swivel fishing rod holder.
Kayak Model Comparison Guide
Compare the features and specifications of all of Bay Sports range of Sit-In kayaks on one easy to read page.
Recommended Accessories
5 Year Warranty
Bay Sports are a trusted kayak brand with years of research and development, so assurance of quality is of absolute importance. We are so confident in the build quality that all our kayaks come with a full 5 year warranty & 5 year UV resistance rating. 


 30 Day Money Back Policy 
There are few kayaks on the market that can match the quality of our kayaks. Therefore at Bay Sports we paddle what we preach; We offer a 30 day money back guarantee on all our kayaks so long as its returned in 'as new' condition.


Specifications
Length: 3.3m 
Width: 0.67m 
Height: 0.40m
Weight: 22kgs  
Maximum weight capacity: 160kg
Storage Capacity: Rear 50 Litres (47.5 x 26cm), Front 38 Litres (20cm diameter)
Cockpit dimension (lip to lip): 84cm long x 45cm wide
Delivery Pricing & Information
Capped Price Delivery Service
Our extensive network of specialist couriers means we can deliver kayaks anywhere in Australia! Under our Capped Price Delivery Service you can relax knowing your delivery price is capped, so no matter where you live, you won't pay anymore than these low prices we have negotiated:
NSW, ACT, QLD, VIC

 

- Metropolitan within 75 kms, (2-3 business days) - $69
NSW, ACT, QLD, VIC

 

- Outside of Metropolitan (3-5 business days) -

 

$135
SA & CENTRAL QLD

 

- Hervey Bay & Above (3-5 business days) - $155
TAS & NT (4-7 business days) - $199
WA Perth Metro (2-3 business days) - $149
WA inc Mandurah, Bunbury, Esperance, Kalgoorlie, Newman, Carnarvon Areas (4-6 business days) - $199
Rest of WA - Excluding Exmouth (6-10 business days) - $245


Residential Address
Yes we can absolutely deliver to any residential address with our private kayak couriers. The delivery time depends on their run schedule, but usually within 7-10 business days of placing your order, unless you are rural.
Peace of Mind
Your new kayak comes professionally packaged, well protected for transport to your doorstep. We only use reputable couriers, who are reliable and usually fast to deliver. We will email you tracking details to trace your delivery, which is fully insured for damage/loss during transit.
How to install rudder system
User Guide
Click here to download the Bay Sports Kayak User Guide
Reviews
Customer Reviews
10/30/2020
George M.
Australia
Aquanauta is great
Baysports were great to deal with and kept me updated on progress. The Aquanauta is great to paddle and so easy to cart around. Should have done this years ago. The rudder assembly is so easy to attach and makes such a difference - the video makes it foolproof. This will get a lot of use for quite some time.
10/29/2020
Randall K.
Australia
Great Kayak, excellent value, brilliant service!!
Am extremely happy with the Aquanauta! I have very limited space at my house, so wanted a shorter sit-in kayak, without having to forego sea/touring ability and build quality. This kayak tracks very well out on open water, and is stable and maneuverable when needed. The service received from Bay Sports was excellent, and speed of delivery was almost unbelievable!!! Would definitely recommend this kayak and company to anyone interested.
10/08/2020
david s.
Australia
Super Happy
My Aquanauta - 3.3m Single Sit In Kayak that I purchsed recently is a step up from my old wide sit on Kayak. I am very happy in every aspect ..purchase, transport, packaging and condition on arrival. The bay sports video assisted me in assembling the rudder. The kayak is light weight and easy to transort.I have been out on river, bay and dam this past week and can't wait to get baçk on the water.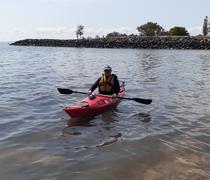 Great product, Great Service.
Excellent service with good communication. The kayaks are just what we wanted ata good price.
I really like the aquanauta
Like the size and the speed, much more enjoyable than the old sit on style i had. Very nice well priced kayak perfect for my small garage.